We had been using Hawk pads almost exclusively last season and found them consistent with excellent bite. The Evo X Brembo front caliper uses a two (per side) large pistons and, with the right pad generates some significant stopping power with the right pad. Hawk's very aggressive DTC 70 race compound was working well and so we were somewhat reluctant to try any other compound. An opportunity to try the Raybestos race pad came up and so we mounted up a set of their front pads. Also a full race compound, these things (like the Hawks) are terrible until fully warmed up. This is not a a street pad and you can not put them on anything but a race track, promise us you wont, as you will roll right through that stop sign with no stopping power whatsoever. Once heated though, watch out, as racing pads will grab you hard, wrenching the car into the turn. The Raybestos has been a good pad and seem to wear well, even better I suspect, then the Hawk DTC 70. They do not, however, have the same bite and raw stopping torque as the Hawk DTC 70. Depending on the circumstances, that might not be a bad thing, as it is important to consider brake modulation, control, ABS impact, etc.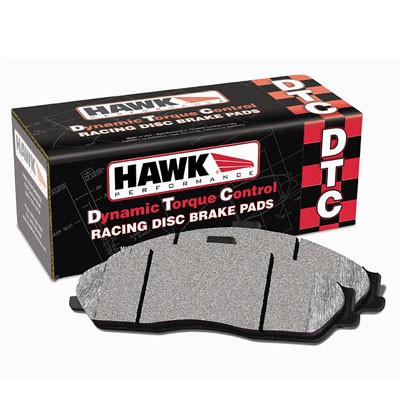 Nonetheless, this isn't a full brake review so much as it as an acknowledgement to Hawk Performance. As EFI Logic's master tech, Jack Laverty was preparing the car for Lime Rock he indicated new rear pads were needed. Your pads last 50,000 miles, these last 4-5 days. Typically we keep an extra set, just in case, and so it was somewhat of a surprise that they couldn't be found – Another item I overlooked as we moved from last season to this one. Nonetheless, it seemed all was lost as new pads were required but without time to get a set ordered. Amazingly, a quick call to Hawk Performance headquarters saved the day. Describing our dire circumstances on the phone, Hawk understood completely, took us under their wing and agreed to ship a set of DTC 70 rear pads directly to the track so they would be ready for installation by 8:30 am. Unbelievable support, really.
Sure enough, UPS came through and the pads were track side and ready to go. Installation is easy, two pins, push in the pistons a bit (Jack showed me a new, brilliant trick for this) slip them in and you are done.
Now, it is impossible to say whether or not some other manufacturer would have offered the same level of support under the same circumstances. The racing community is, like none other I've ever known, filled with people working and willing to help each other out. Hawk's willingness to rescue us was exceptional though, very much appreciated and made all the difference. Despite the exceptional performance of the DTC 70 Hawk pad, with all the different options available for brake pads, it's this kind of attention and commitment that warrants loyalty. Enough said.
by John on Jun.26, 2011, under Projects and Modifictions