Archive for May, 2012
by John on May.31, 2012, under Racing Results
This past weekend's competition at New Jersey Thunderbolt course was exciting, fast and fierce. Two days of 90 degree heat and high humidity took its toll on several cars and while the track had good grip the high temps caused a number of problems for other participants. With many new competitors and some important setup changes the differences in lap times through the field was extremely small. This made for some exciting driving as racers were fighting for every tenth.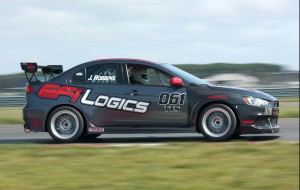 The Evo X ran like a top and while the humidity certainly had an affect on power the overall setup was consistent and fast. EFI Logic's prep and Chris's tune continues to pay big dividends, as the car is rock solid throughout each and every session. New for this event are the CL8 brake pads from Essex. We'll do some additional testing but over the weekend the pad maintained tremendous bite and strong torque despite the heat. Wear seems good or equal in comparison to the Hawk DTC 70 but some additional analysis is needed. More soon.
EFI Logics' Jack Laverty reset the alignment and corner balanced the car nicely using a bit of ballast in the rear right corner. We ran the Thunderbolt track with the chicane, which adds some complexity with a series of short turns with strong weight shifts. Coming in a little early allows for the Evo X to flatten out and power through the next two turns and onto the back straight. The car is extremely predictable, and the Goodyear Eagle RS tires continue to perform exceptionally well. We can't say enough good things about the tires as the R compound has fantastic grip and wears like iron despite the weight of the car and AWD setup. Turn in and rotation is fast and consistent and when they do break away it is smooth and stable. The tires are unidirectional and so it is easy to swap them around to ensure even wear. If you haven't tried these tires then, well, you are missing out and will continue to burn through alternatives wondering why you had good grip right up until you slid off the track.
Set up and preparation is key to producing consistent results throughout the TT series. It's the little things that matter, from EFI Logics' tech Joe checking pressures, fluids, tires, and zip-ties. EFI's process of confirming the car's readiness is exhaustive and makes all the difference. Even the Yonaka lug nuts get Joe's keen attention. Super light aluminum, we are swapping wheels so frequently that each nut is checked carefully each day to make sure it continues to thread and torque properly. We've had great results racing with these Yonaka nuts. Light, priced right and bulletproof, these lug nuts are the right solution.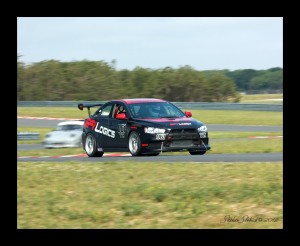 Overall, it was a great weekend of racing with strong results across the board. With less than a second difference between the top 6 competitors, we took 4th in TTS on Saturday. Sunday's times improved further with a first place in TTR and a 3rd in TTS. This was an exciting weekend that would not have been possible without the unwavering support of our sponsors, family and friends. A big thank you to EFI Logics, Goodyear Racing, APR Performance, Yonaka, Girodisc, Seibon, Enersys, Torque Solutions, Moroso, GSC, and Full-Race. Check out our sponsors' page for direct links to their sites and products.
Leave a Comment
more...