Archive for April, 2012
by John on Apr.28, 2012, under Racing Results
NASA NE's first event of the season in New Jersey Lightning was action packed. These early events are great as they bring out hundreds of cars, new modifications, and old friends. Things have changed over the winter and the Time Trial classes have grown considerably. Importantly, NASA NE made some significant changes to our grid set up to give us more open track time. A number of new competitors with some very fast cars this year and so the competition was fierce. Fortunately, Saturday was clear and bright and, with EFI Logics' tuning and the excellent Goodyear Eagle RS, we were able to slowly peal off successively faster laps, ultimately securing the TTS win for the day.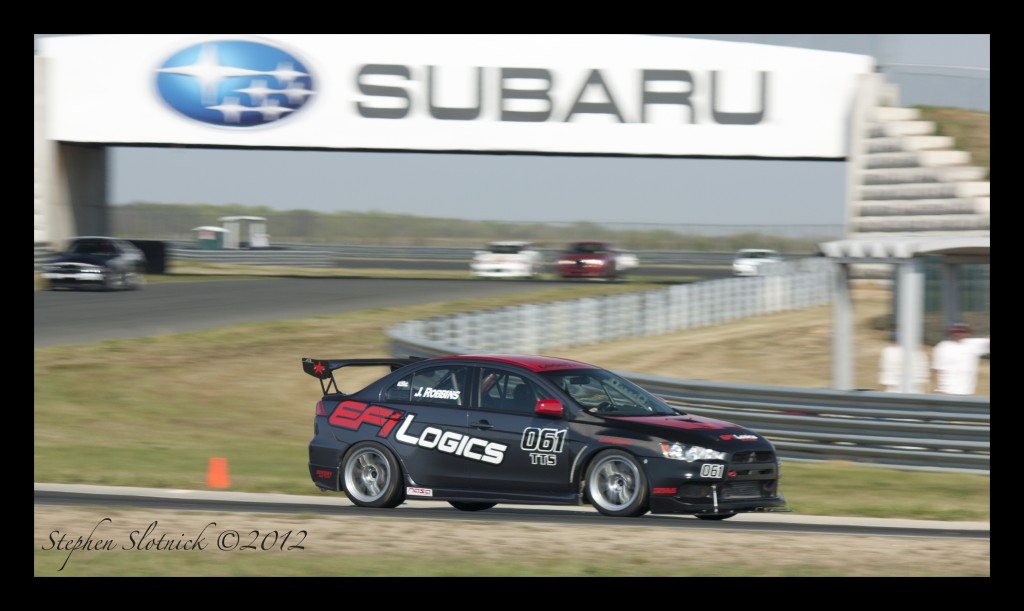 The car was rock solid throughout both days, EFI Logics' chief Tech, Jack Laverty made some significant changes to the suspension settings including corner balancing the car. The difference was immediately evident, providing more rotation at turn in and planting the rear end at exit. If you haven't had your car set up for the track by a professional it's more than worth it. Jack is the master and you need his input. As I posted earlier, part of the changes to the car over the winter were new Torque Solution side motor mounts, rear differential, exhaust, and shifter bushings. These are great products and I am consistently impressed by their impact on the handling of the car. Everything is tighter and makes the car feel more predictable. Check out our sponsors page for their website link, they have developed a number of cost effective solutions for a wide variety of cars and it's these small changes that can really impact your car's performance over time. For the Evo X, start with motor mount bushings first, then shifter bushings, then drive shaft and rear differential. Get ready for an amazing impact to your car's handling and feel.
Sunday's weather was the opposite of Saturday. Much colder, the rain started at 9 am and only increased throughout the day. lap times were much slower and it was extremely slick for anyone without a full wet rain tire. A second place on Sunday felt especially good given the number of cars spinning or off the track. We loaded up early, vowing to procure a better wet weather set up before the next event. All in all it was a great weekend. EFI Logics had a number of cars at the event and each had wins in their respective class. It's a strong testament to their support and set up skills. A special shout out to EFI Logics' newest member Kevin. He and his buddy Brian covered the four EFI Logics cars over the weekend as well as providing some technical support to a few others.. The focus and commitment was great and I never saw two guys run so much in my life.
Leave a Comment
more...