Archive for November, 2011
by John on Nov.29, 2011, under Racing Results
The NASA Northeast results are now posted, the points tallied and it was great to see John Robbins in the EFI Logics Evo X listed as the TTS class Regional Time Trial Champion! 2011 included some strong competition with 12 drivers competing during the season's events, but podium finishes at all events and winning twice at Poconos, at New Jersey Lightning, and on the final day of the season at New Jersey's Thunderbolt race track helped secure the title.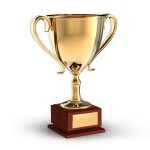 A late start due to the car not being complete and then a delay for repairs after an incident with some Armco at Lightning posed an interesting challenge. We needed to be at every remaining event and a mixture of TTS participants meant we never knew who or how many were going to be competing. The car was consistently brilliant though and now is well sorted and no major plans are forecast for the winter, save for typical maintenance activities. There may be a few surprises and so keep watching – there is always plenty to do to get the car ready for next year.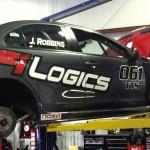 As I've written throughout the season, any success in racing is not a singular effort and, in our case, has included significant coordination and support from a variety of sponsors, manufacturers, and of course, family and friends. Notably, and I've said it before, EFI Logics in Bethel CT has played a huge role in making sure the car was fast, safe, and ran properly throughout the season. There are so many aspects to their support and expertise that I can't express it all here, you'll be best served by a direct visit to their shop. Goodyear Racing and their venerable Eagle RS tires have had a dramatic impact on lap times, regardless of the track. Predictable, fast and long wearing, the Goodyear's have been great tires; if you haven't yet, you should try them, really. Additionally, significant support from Moroso's development group, Girodisc, Route 53, Seibon, APR, Full-Race, GSC, ATI, and others (see the Sponsors tab for direct links) have all made a huge difference and we are both honored and humbled by the opportunity to work with these great companies.
The NASA TT program grew exponentially this season, with many new racers, new cars, bigger contingency awards and unique track configurations and events. The TTS class is larger than ever, reserved for the more heavily modified street and race cars it should grow again next year as more drivers continue to improve and develop their vehicles. The inclusion of Real Time Attack and Global Time Attack competitions throughout the US, including the Northeast, is helping to bring more attention to the NASA TT events, which is sure to bring additional excitement in the upcoming 2012 season. Thanks again for all of your help and support and get ready for 2012, it's already shaping up to be a great time.
Leave a Comment
more...
by John on Nov.11, 2011, under Racing Results
Ultimately, and somewhat despite the weather we had a good time this weekend at NJMP.  Multi day events are great but offer additional complexity and require more work to keep everything together. Having car and pit support from EFI Logics at the track always makes a huge difference and this weekend was no different. Their help really allows me to focus on my driving, what's happening with the car on the track, my competitors and less about air pressure or tire temps and the car's overall health.   I was especially fortunate as EFI's head tech, Jack Laverty attended as well.  A hell of a driver as well as tech, he was racing in the Enduro. In addition to his racing at Thunderbolt, Jack provided considerable guidance regarding the track, managing the conditions and suspension adjustments to handle the weather.  While I do understand his changes (mostly), I would generally not make these tweaks on my own at the track for fear of making something worse. As I said, it's one thing to have a good car, it's quite another to have a good car that's been taken care of by the best in the business.  I don't offer this lightly, but being associated with EFI has again made the difference between success and failure on the race track.  The level of expertise and commitment they bring to each thing they do serve as a benchmark for every tuning and race shop out there.  Those of you who met up with us at the track know that EFI Logic's name generates immediate respect. This weekend was no different than others as we had a bunch of Evo and Subaru owners stop by our garages to inspect the cars, ask questions and talk with Joe and Jack about things they'd like done.  It shouldn't at this point, but it always surprises me just how much attention the car gets, and while you all might not love it, the consensus on the new paint scheme is very positive.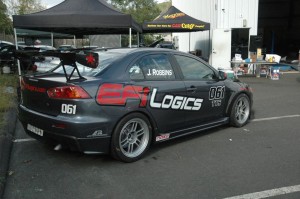 Friday night's arrival was uneventful and so nice that we believed the forecast to be way off, as so many tend to be. NASA had an open track day and so we had a chance to pull the car out and scrub in some tires. Warm and breezy, we had no idea.
Saturday morning was cold and ominous. At 6 am and ( I remember this distinctly) it was simply brisk and cloudy, seemingly unsure of what weather it wanted to bring. At 6:20, mother nature decided to bring rain and she wasn't fooling around. It started to rain pretty hard immediately and never stopped, Never, all day, always hard, always wet, always cold. The only thing that changed throughout the day was the wind. Sometimes it was light and sometimes gale force with sideways water cutting across the sky and turning umbrellas and ponchos into worthless flapping flags. By the time we were at the track and had the car organized it was a steady deluge, and 35 degrees. By 8:20 and our first session the track was flooded and almost freezing. Each rain drop getting big and slow on the windshield, that transition time just before it turns to snow. The track was a skating rink and I discovered, and later confirmed throughout the day, that the Hankook RS3 is no cold rain tire, not even close. Jack or maybe it was Joe had said, "hmmmmm" indicating some measure of uncertain disapproval. I chalked it to their not having perspective on Hankook's latest and greatest and so maybe we would all be pleasantly surprised. The tire sure surprised me enough times, but not in a particularly good way. I've sure had good success with their dedicated racing tire and have heard great things about this RS3 in the dry. Maybe it would be fine at 80 degrees out and damp, but not 35 with standing water.
During the first sessions, in all that water, I was everywhere on the track. An Evo 9, that we had no problem beating at Poconos, was beating me by 15 seconds in the first session. He passed me on the inside like I was standing still. He had grip where I was deep into traction control and fighting to keep the car out of the mud. Certainly a good driver, he was running all season Dunlops and had the tire to beat apparently. He's in a similarly powered car (but he said a little less than me), but wow, I sure couldn't sort it out early on. One off track slide on the sharp left T5 and I learned that I had more traction in the dirt than the pavement. Sitting in the mud, the tires seemed particularly stupid in this weather and I was frustrated that I didn't have the right tool for the job. I pulled back on and kept driving.
The water didn't let up and flooded the pit out area, under the bridge and end of the straight. It flooded everywhere and started coming under the doors to the registration office and garages. Out racing, if you followed the dry line you hydro-planed right off the track. People were off track everywhere and I think that the tally was no fewer than 20 cars went off and 8 crashes into the wall, Day 1. It was mayhem.
My new front splitter system, which EFI Logics developed, is very impressive, by the way. A combination of a Carbon Fiber and Alumalite sandwich, with a gurney flap on the back sits on adjustable aluminum rails. The whole bumper attachment has been redesigned to pop off now with four zip ties and two quick release turn screws. You can stand on the splitter. It's an impressive and beautiful build and a testament to EFI's ability to fabricate for racing performance, for functionality, while keeping it looking great.  The only bad news was, with all the rain, the splitter would scoop up so much water through the puddles it would splash over the air intake and the motor would stumble then clean itself out in a giant cloud of smoke and steam, then it would do it again. Finally, after the second session we put the new EFI solution into action and popped off the bumper, removed the splitter remounted the intake higher. It took Joe about 8 minutes start to stop.  The good news is I know I could do it in about 15 minutes.  This cured the water boarding issue and by the third session I got my sea legs and was able to do a little better. I lopped off almost 20 seconds and was in the hunt for the podium. The tires were still terrible at this cold temp but I did a little better finding their limits in the turns.  The car's motor was now running brilliantly despite the continued rain.  Luckily it had warmed to lovely 40 degrees.
The last session was better still as the rain paused slightly, or at least slowed to a drizzle and it was a bit brighter. On any other day we would have complained for all the rain but now, given the comparison to the earlier cascade of water, we were almost jubilant. A few other sessions pushed some water off the line and while it was by no means dry, the track was a little less chaotic. We were still running the 2nd chicane and water was still running all over the track making everything very challenging. For example, on the back straight in the dip, there was a stream running over the track. I would hit that spot and all four tires would spin, all at once. Excitement… Guys in rwd cars would either lift there or their rear end would kick right out and spin them, again and again. Despite these spots, I got a little faster and put up a 1:58, now only 3/10ths behind the 1st place Evo in his heaven sent snow tires. I felt a little better too and having escaped disaster so many others had found my 2nd place trophy never looked so good.
Sunday dawned clear and very cold. The good news was that the track was no longer flooded, but there was a thick frost on the windshield. We watched our breath roll lazily upwards as we put on the dry tires and reinstalled the splitter. I was looking forward to getting off the Hankooks and onto the big Goodyear Eagle RS.  I love this tire and at the right pressure and temp it wears well, is fast and sticks even better. The first session was very cold and therefore slippery and careful but already better than yesterday. I even felt fast for a minute, but I wasn't, the cold wet track made everything still slow. I won the session but this wasn't saying much as we were all so tenuous and there were so many off track on Saturday that we didn't really trust the track  It was finally sunny though and with this there was a measure of hope. Certain parts of the track were drying out and as morning came into full swing things were speeding up.
It wasn't all good though as under the bridge and chicane were still soaked and super cold and very dangerous. NASA held drivers meetings to discuss the danger, specifically as a Porsche GT3 slid through the esses and drove his front end into the bridge at speed. He was fine but big damage to the car. Somewhat surprisingly, cars were continuing to spin regularly and it was a constant yellow or black flag in the second session. I'd run 3 laps, Yellow, 1 more under Green, then a Black and it was over. Nuts, and in one session alone we had 5 drivers off. I won the second session as well, though the times are still well off pace. The Evo 9 that beat me on Saturday was running fast too and was now on some nice Nitto NT01s but my set up was better and Jack Laverty worked with Joe to dial the suspension in to accommodate the slowly increasing grip. I was a second or so faster and what's more, I got a little confidence back with the tightened up suspension and more predictable handling. Across the board, lap times were going down fast, it was now 50 degrees, my tires started to warm and grip improved dramatically. Finally, the track was near dry, it was sunny, the car's motor was magic and the suspension and tires were working well. Unfortunately, with all the crashes and spins the events were well behind schedule and I knew with the storm up North that I was needed at home soon, so the third heat was my last session of the day, and of the NASA season.
NASA NE now, when we are combined with another group, grids the TT groups separately allowing us to get a clean 1 or 2 laps before catching the HPDE 4 or instructors. We pull out onto the track according to lap time and I was following two monster TTU cars. We like to let all the cars come out behind us and bunch them all up while tires are cold. This reduces the risk of coming through your first lap only to find straggling HPDE guys still just entering the track. This was no different and we took 3/4 of a lap very slowly, swerving back and forth to get our tires ready and to collect the entire field. It's important to get on the gas at the same time as the lead car so as not to be left hanging, mouth agape, and I wanted to follow the TTU cars as closely as possible, despite their increased power, so I watched carefully. Pause, tick, tick and then wham we three took off almost perfectly at the same time. The lead TTU was a full race set up Subaru STI with huge Aero and 680 hp to the wheels. Number two, Mike Ellis the Grand Am driver in his seemingly giant and beautifully set up Penske Z06. The car makes almost 500 whp and 480 wtq and weighs 3100lbs, but on top of that he is just so damn fast. The roar from the three of us, so close together, at that moment, was palpable. This first was to be a very hot lap, as I was on their line and, for the moment was on pace staying with them to the straight. Mike passed the big Subaru and I was in chase. His power was spectacular but through T3, T4, and into T5 I gained a few car lengths. Somewhat unfortunately, I caught the Subaru all the way around by T8 in the Octopus slowing my lap for that moment.
Still, and despite catching him, I knew was in the game and the laps were pretty fast despite the traffic – I could feel it. The car was very dialed in and the splitter created enough down force that I now needed to push my braking points later and later. The Girodisc two piece rotors are fantastic with the Hawk pads. I'm used to some very aggressive braking but hadn't any time to experiment with this new splitter setup in yesterday's rain and didn't have much time now to think about the improved affect on the car's braking and turn in. By lap 5 I was in heavy traffic and, with another car off track under yellow, I pulled in to the pit to get clean track. I waited for a few seconds and then was waved back on behind a MX-5 running TTE. I tucked right in and behind me were a bunch of cars including a fully built BMW Z4 sitting right on my tail. He was pretty fast, and the MX-5 was not and so I was worried about him and others trying to get by us but decided to sit behind the Miata for the remainder of the lap and let the pack crowd up behind us a bit. The Miata was slower (though had a very good line) and the gap between him and traffic ahead of him was widening. This was great and a good opportunity to create some clean track. My plan was to sit there until the final turn and then pass the Miata fast on the straight, presenting a clean lap with almost no cars to interfere with my line.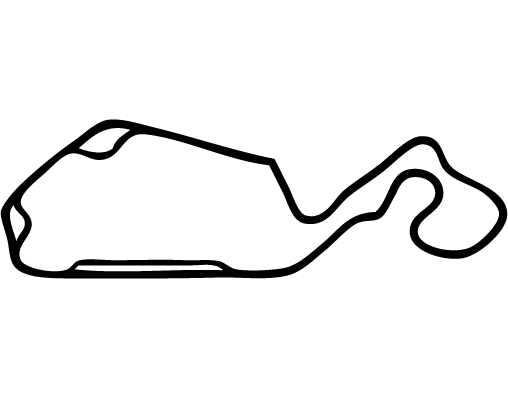 It almost worked too but the Z4 behind me was stupid and reckless and passed us both, badly, coming into T6. He crowded on the inside and almost collected the Miata, who didn't expect it at all and turned right in not knowing he'd be right there. Frustrated, I had to throw my plan then and catch the Z4 before the straight and so I squirted by the Miata too, coming into T7 right after the Z4. Frankly, I was a little pissed at his bad pass and was worried about losing my clean lap opportunity.  I pushed it and caught the Z4 by T8 but with no clear angle to pass. I took it hard to the inside of the turn, relying on the awd and better traction to pull me through. It worked and ended up pushing him way off line while I was on the throttle coming under the bridge in 4th at redline. Exiting to the straight I was presented with clean track as far as I could see. The car is about 150 or so on the straight and I braked at the 5 marker, though now wish I would have waited to the 4.5 though, as EFI's splitter worked its magic and I gave up a little more speed than I needed. The car tracked out easily, up the hill and I tapped the brakes to settle the car for T2. I like this turn, it's fast but I know now I could still go faster here. T3 was fine but in T4 again I was a little slower than I think is necessary. Damn, the braking and turn-in is so improved I just needed to relearn this new capability of the car. I downshift to 4th here and touch the brakes and it feels fast at entry but there's plenty of room and it's still too slow. I need to stay in 5th and just tap the brakes to settle the car. Frustrated, I think there is a half a second here I can pick up.
I'm fast in T5, the tight left is easy for the Evo, the tires hook up and I have a ton of torque right there. This is where I can really discern the difference between a good racing tune and a tune for peak power.  I see so many guys have trouble in this sort of turn as their car's power is not linear enough and they struggle to manage the car at turn exit.  An red Evo X with a fully built 600 hp motor spun here, as it seemed the driver couldn't manage the power delivery.  I can certainly imagine the fellow coming out of the corner and the power coming on in one giant peaky blast that pushed him right to the mud.  This might be fun on the freeway but is not effective on the racetrack.  
Chris, EFI Logic's tuner, knows this difference well and the car is masterful at staying planted on exit as it accelerates smoothly right to redline.  Shift from 3rd to 4th and T6 is clear and fast and I barely tap the brakes but it's still probably more than I need, but not by much. It's an easy and fast turn; I track out with my foot mashed to the floor. I trail brake into the Octopus and back on the gas through the turn, then hard to the brake and a shift to 3 as I take the hard right. Damn it, I've caught me a Porsche, but, thankfully he sees me coming up on him at full tilt and pulls way outside off line. A gift and I don't waste it. His change blows my normal line of fading out a bit, rotate the tail around and come in close with heavy gas to the bridge; but isn't too bad. I take the inside all the way through and am full throttle as the Goodyear's work hard to find some purchase. I lift for an instant to settle the car and shift the weight left for the esses. I short shift to fifth, as I come through tight to the apex at about 110 and track out (too) easily. A mad race to the finish line and I'm done with one almost clean lap. I ran a 130.1 and know I left maybe 1.5 seconds on the table with my braking. There's probably more there too, but then I'm just bumping into my skill and experience at this track.  I suppose the traffic played a part too, but not much.
In the end, we felt good about the 1:30 and the car really felt sorted. I won that session for my class and then we loaded up to go. There was some worry that the final session would be better still and so I would be in 2nd or 3rd for the day but the lap time prevailed, as the closest TTS was still 2.5 seconds away. At this point anyway, it seems we won the day for TTS. We had a great time regardless and everything felt really great. 2012 is right around the corner, and it couldn't look more promising.
1 Comment
more...