I've been speaking with Geoff and Jon over at Full-Race. Chris, head tuner at EFI Lggics, indicated I should touch base as Geoff has developed some incredible solutions for the Evo X. Specifically, I wanted to discuss their manifolds as the Evo X stock exhaust manifold isn't bad but flow could be improved, and Full-Race has done the right research to determine how to maximize the air moving from the motor to the turbo (remember, the hot exhaust air spins the turbo, which makes more air for the engine to breathe). Here's some pics comparing the stock manifold to the Full-Race manifold.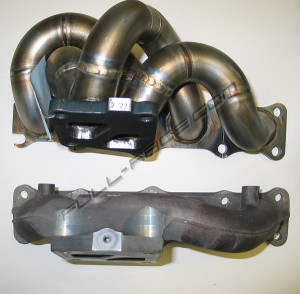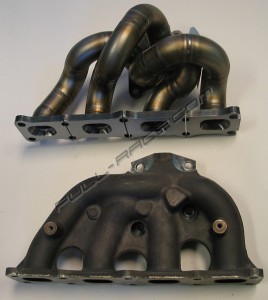 Beautiful work. Geoff and Jon are great to work with and forgot yesterday more than I'll ever learn about engines and exhaust flow. My new manifold arrived yesterday and will get bolted in with cams and springs (with any luck) in late March. The idea here is to improve the flow and provide EFI Logics the flexibility to meet my HP limits on pump gas. This should save a ton of money and actually increase engine reliability by running on lower boost. Needless to say, I'm excited – Hats off the Full-Race for an impressive piece of craftsmanship. If you haven't yet, check them out.
Here are some Dyno results showing the benefit of the manifold over stock.
by John on Feb.18, 2011, under Projects and Modifictions